April is Italian Month at Marks and Spencer
April is Italian month at M&S.
I have to say that Italian is my favourite cuisine to re-create at home for Mr R and in fact anyone visiting.
In M&S stores this month there will be an emphasis on all their products made in Italy but especially on the pastas from the north – the Dolomites and the sauces from the south in Calabria.
M&S dried pastas have been made to a traditional recipe since 1908 using only locally grown wheat and water from a spring  2,000 meters above sea level.  The pasta is then air dried in the Italian alpine air to keep it absolutely pure!
M&S pasta sauces are made by a third generation family business in Calabria, Southern Italy using the finest ingredients. Each batch starts with a classic 'soffritto' base – vegetables slowly cooked in Italian extra virgin olive oil then combined with local Italian tomatoes and herbs. The vegetables are harvested in the morning, cooked and put in jars that afternoon. They pride themselves that their sauces have that 'our home' taste.
Each jar of the prepared sauces in the current range have the sticker on top certifying they were indeed made in Calabria.
I attended an event put on by M&S with my blogging friend Nayna – to read her account click here.
At the event we made our own pasta according to Marks and Spencer's recipe – a vegetarian ravioli, a tortellini filled with their Calabrian spicy Nduja paste and a simple tagliatelle.
We also tried their ready made pasta Beetroot & Lemon Ravioli which cooks in three minutes making it one of a perfect range for quick mid-week supper. When pasta is this good you don't need a complicated sauce.
I popped into my local M&S to but some of their Beetroot and Lemon Ravioli. When I got home I cooked the ravioli in salted boiling water and drizzled M&S pesto over it along with fresh lemon juice and loads of freshly grated Parmesan.
By the way, Italian pastas are not just different shapes that have evolved over time.  Each shape originated in different areas designed to hold the sauces from that region.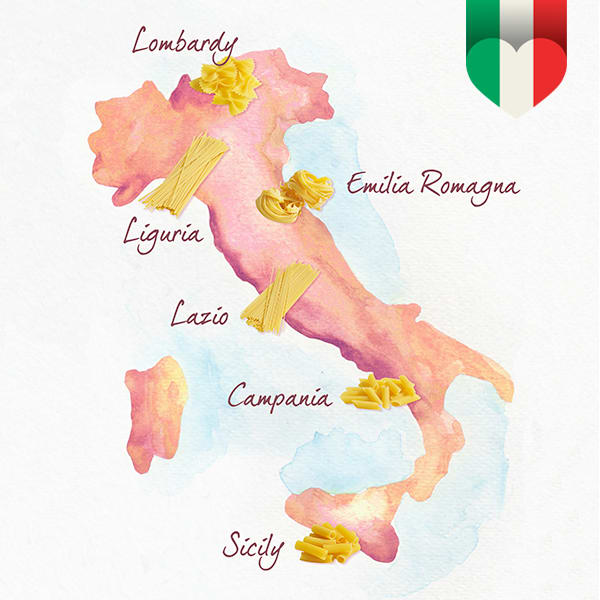 For instance in the northern region of Lombardy the Farfalle (bow-tie) shape works well with a light topping such as Tomato and Basil Sauce. Liguria favours Linguine (like thin and flat spaghetti). Linguine means 'little tongue' and works really well with creamy seafood sauces.
The region of Emilia Romagna is known for it's love of Tagliatelle (to cut into ribbons) this egg-rich pasta works especially well with a ragu meat sauce such as the ever popular Bolognaise.  Around the 'knee' of the boot shape of Italy is the area known as Lazio from where we find our most poplar pasta – Spaghetti.  Spaghetti is popular all over Italy but of course everyone knows the famous 'Spaghetti Carbonara' often claimed to have come south by the Carbonari (coal men) from Umbria.
Penne whose name means 'pen' are hollow tubes perfect for soaking up rich sauces.  And finally but in no way to be forgotten Sicily offers us Rigatoni coming from the word ridged and very popular in the kitchens of southern and central Italy.  Rigatoni works really well with salty, tangy sauces such as Tomato, Tuna and Olive Sauce.
I hope you can tell how important pasta is to me.  I could never imagine not having pasta, it is our 'go to' meal when we are short of time as well as our family meal when the whole family is coming for dinner and just as importantly it is my favourite 'comfort' food.  What is your favourite shape and what is your favourite sauce – please leave a comment below!
I was a guest of M&S and was not required to write a positive review.  As always all opinions and photographs are my own. No photographs may be reproduced in any manner without my written permission
---
---